An organization can only survive and succeed with the total involvement of its customers, employees, suppliers and managers in the continuous improvement process.
Having this philosophy, KULSAN A.S. was established by Hasan Kulahcioglu in Istanbul in 1974. Since then, the company has been successfully represented by its dynamic and professional internal staff and customers both in Turkish market and in the global market.
First export was made to Dubai in 1987 and today, Külsan has become a well known trademark selling their products to more than sixty-five countries at five continents.
By prioritizing quality, hygiene and innovative design, KULSAN continues to produce tabletop and serving equipments at 12,500 m2 factory in Cerkezkoy-Tekirdag, Turkey.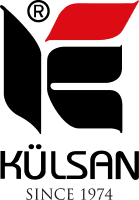 We aim to produce elegant, strong and durable kitchen utensils for serving purpose satisfying utility while providing an aesthetical outlook.